Security

Security - manage the security settings for your Safe-mail account.

At Safe-mail, we are passionate about information security. But, we also know that not everyone needs the same security, or the same way that security is managed. Security Preferences is where you will decide how that security is handled. The settings that you change here will either increase, or decrease, how well you are protected.
=====================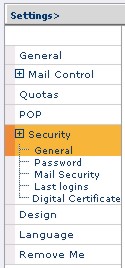 IP checks
There are many reasons why an IP address might be changed while you are connected to Safe-mail servers. However, the IP address can also be changed if another, malicious user should hijack your mail account by intercepting your connection to Safe-mail servers. In such cases, the IP will always change. Since Safe-mail always detects a change in IP address, keeping your Mail Security setting to 'Use IP checks' will guard against attack by a malicious user.

Increased security for shared or public computers
Browser cache exists for the purpose of speeding up your Internet connection. When you download a page for the first time, the elements of the page are stored in the browser cache. The next time that a browser needs to access the page, it will check the browser cache before downloading a duplicate copy of the page.
Depending on the Internet settings of the computer that you are using, this browser cache is erased at pre-determined times. However, if you are sharing the computer that you are using to access Safe-mail, it is possible for information in the browser cache to remain for a period of time, allowing other users to see information from your Safe-mail account.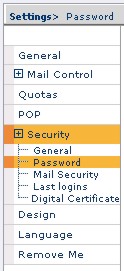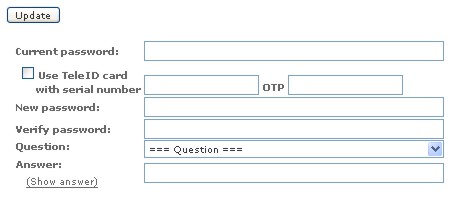 Password allows you to:
Change your password
Set up a question that will be asked if you forget your password.
NOTE: We strongly recommend that you choose a good password to avoid the possibility of forgetting your password and having to use the password reminder. Answers given to a reminder's question are usually simple and might weaken your protection.

For good password examples, click here.

Access Recovery - when you forget your password

When it comes to accessing your Safe-mail account, your password is everything. If you lose it, there are only two ways to regain access to your account - if you have already chosen an Access Recovery option in the Password page of your Preferences.

Reminder Question

In the question selection box, choose a question that only YOU know the answer to. Then in the Answer box, type the answer that fits the question.

NOTE: When given the reminder question, you will need to enter the answer exactly like you entered it here. This means that you need to write the answer carefully.

New Password by Email

The other option for regaining account access is by having a new password sent to another email account. Because this can be an insecure method of regaining account access, you will be prompted to change the password once you have regained access to your account.

When you choose an email address to send a new password to, Safe-mail will send a message to that address indicating that you have chosen that address to reinstate account access. You will need to click the included link to confirm that the address is correct. If you do not click the address, the New Password by Email option will be canceled in your Preferences.

WARNING: If you do not choose an Access Recovery option, you will permanently lose your account access if you lose your password.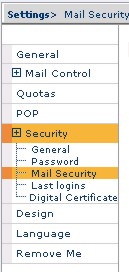 Mail Security allows you to:
Define how to send messages outside the Safe-mailTM system.
Set up your Safe-mailTM to send messages only to specific addresses or to addresses authenticated by specific users.
Specify the types of incoming messages you want to receive.
Notify senders from outside the Safe-mailTM system about receiving and/or reading their messages.
Last Logins allows you to see the date, time, login IP, and User Agent of the last few times you logged in.
Security Policy regarding outgoing messages

Because nonSafe-mail users do not have the ability to decrypt encrypted message, Safe-mail users cannot send encrypted email to non-Safe-mail users - unless they use the SafeBox. This means that email sent to nonSafe-mail users is sent unsecured. You will still have the option of using the SafeBox when sending messages to nonSafe-mail addresses. However, to ensure the maximum possible security, you can 'Block outgoing messages to non-secure recipients.'
NOTE: There are users who are not connected to the Safe-mail domain that have the ability to receive messages encrypted by Safe-mail. Safe-mail servers are able to detect if this is case and will not block messages sent to these addresses.
Using secure SafeBox

Safe-mail provides a secure, easy way to send encrypted messages to users who do not have the capability to read encrypted email. When sending via SafeBox, the message is stored on the Safe-mail server, and a message is sent to the intended recipient. This message provides a link to the stored message. Note that if the address is a Safe-mail address, or is an address that has the ability to read encrypted messages, the message will be sent normally without using SafeBox - which is to say, using the highly secure methods that are standard for Safe-mail users.
There are three ways to use the SafeBox:
· Addressbook - for each entry in your address book, you can specify the password that you want to use when sending messages via SafeBox.
· Global Password - entering a password here will select 'Manually enter a password' and place a password in the associated box - when you click the SafeBox button. However, you will always be able to change this password.
· Random Password - Safe-mail will randomly generate an eight digit password. This is a low security option because it includes the password in the message that is sent to the user.
NOTE: All Safe-mail passwords are case sensitive and can include non-alphanumeric characters.

Send messages only to the following addresses
For purposes of internal security, you may want to send messages to certain users, only. In the first box, place the names of those users in your address book, or the email addresses of other users. When specifying more than one user, separate each name or address with a comma or a space.
Alternatively, you can permit messages to be sent to Safe-mail addresses that have been authenticated by the Safe-mail users that you specify in the second box.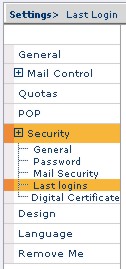 Last logins
This window provides you with the ability to see the login time, login IP, and the details of the application used to login to your account. This window is useful in helping determine if (and when) any unauthorized users have accessed your account.