Design

Design - choose the best look and feel for your Safe-mail account.

Safe-mail offers four different interfaces to choose from, as well as interfaces for Hebrew and Japanese users.
To change the general look and feel of Safe-mail, just click one of the interface designs, and then click the Update button.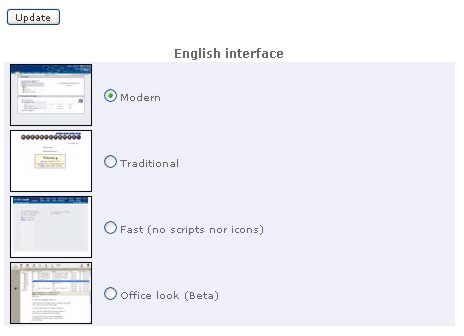 Interface Description
| | |
| --- | --- |
| | Our most popular interface, the Modern interface provides easy navigation with an updated look and feel. |
| | Our original interface, quite a few of our users still like using the look and feel that gave us our start. |
| | For those users who cannot run scripts, do not support graphics, and/or have a slow connection. |
| | Office look preserves the look and feel of Outlook, so if you want to pretend that we are Microsoft, use this design. |
The following are our language-specific interfaces: