The Monitor
The Safe-mail monitor allows you to keep track of activity within your account. Once the monitor is active, you can close all other Safe-mail. When you receive a message, the monitor will display a message according to the monitor settings.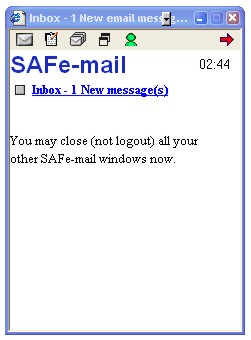 The following buttons are available on the monitor toolbar:


Open my mailbox - click to open your inbox in a separate window.

Compose new mail - open the compose window for new email messages

Show new mail for all folders/inbox - click to switch between viewing new messages just in the inbox, or in all of your folders.

Logout - log out of Safe-mail - You will need to log in again to view information in your account, even if you have other Safe-mail windows open.

/

Enable/Disable popup alert window - click to switch between receiving, and not receiving, popup alerts when receiving new messages.

Show online friends - click to show the list users in your address book who are online.
This is how the monitor would look with the popup alert window disabled, and showing online friends: