Bulletin Boards

A Message Board is a user defined message box in which registered Safe-mailTM users can read posted information or leave messages for others to read.

The Message Board is the ideal tool for any Safe-mailTM user to use to create a public messaging receptor either for the world at large or for a defined group that shares a common interest. It allows anyone to reach out and communicate with others and benefit from the wealth of knowledge and experience accumulated by a worldwide community.
Any registered Safe-mailTM user can create any number of message boards and define the parameters of accessibility of the boards he or she creates. The message board creator has complete control over the administration of his or her message board. Creators may bring in other people to share the running of their bulletin board by clicking the board name, clicking 'Settings', and adding additional administrator names.
The message board creator can view the names of users who will receive message board update notifications - by going to MSG Board, clicking the board name, clicking Settings, and then adding user names to the Notification section.
Restricting Access
The default setting is that all registered Safe-mailTM users can read and leave messages. The person creating the message board (the administrator) may place restrictions on Writer access and Reader access by clicking the board name and clicking Settings.
The ability to fully or partially restrict access to a message board makes it a strong tool which can serve the needs and interests of people who would like to exchange messages which are relevant only to their closed group, either in a business related environment or for any private group sharing a common interest. The access to a message board can be restricted to named users who are the members of a closed group, or to users who are authenticated by the head of the group.
Instructions
My favorites

Your bulletin board favorites contains links to all the bulletin boards that you are interacting with, and makes it convenient for you to access your favorite message boards. However, you do not need to place a message board in your favorites to submit or read entries.
To place a message board in your favorites,
Run a search for the message board
Select the check box that corresponds to the message board
Click Add to Favorites.
A checkmark will appear beside the chosen message board, indicating that it has successfully been added to My Favorites.
Each Message Board that you create is automatically added to My Favorites.
Categories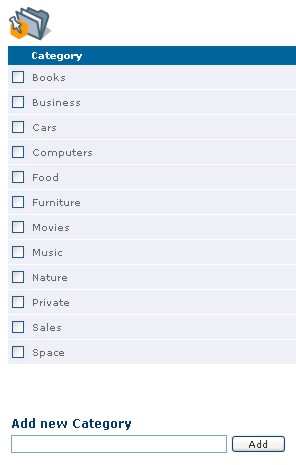 When you create a New Message Board, the categories list will appear when you wish to select a category for your new message board.

Search
When searching for a message board, you have the option of searching for the complete name, part of the name, or the beginning of the name. You can also search for one, or more, words contained in the keywords, or in the description.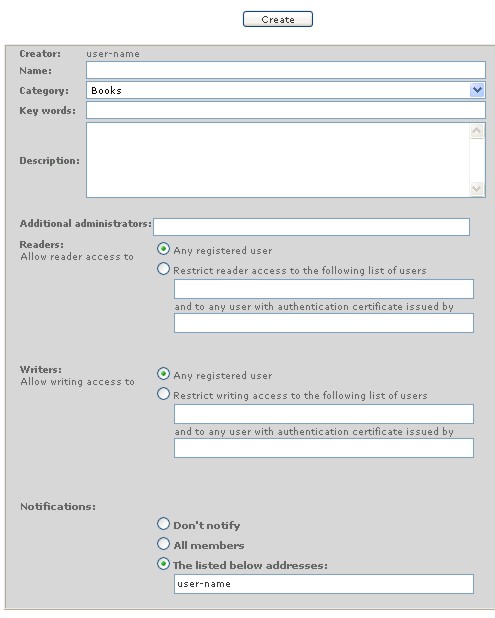 New Message Board
Name - Type the name of the message board that you are creating. You are only allowed to use the following characters: a-z, A-Z, 0-9, ., -, and _. All other non-text characters such as spaces and symbols are not allowed.
NOTE: because each message board exists within a separate message space, you are not allowed to give your message board a name that already exists as a Safe-mail user name.
Category - You must choose a category for your message board. If you do not see the proper category, you can add the correct category by going to the Categories page, adding a category to the list, and then returning to the New Message Board Page.
Keywords - Safe-mail allows other users to search for message boards using keyword search. This means that you should type words that correspond to the topic of your message board.
Description - Give a description of the relevant details of your message board. Like the keyword feature, Safe-mail allows users to search the message board descriptions.
Other Administrators - You are allowed to appoint other Safe-mail users as administrators of your message board. It isn't necessary to type '@safe-mail.net' when typing administrator names. Also, as with sending email messages, Safe-mail checks your address book first, when attempting to assign administrators.
Read Access - As a default, all Safe-mail users can read messages on your message board. However, you can restrict access by typing the usernames of those users that you wish to be able to read your message board. Likewise, you can give read access to Safe-mail users that have been authenticated by certain users that you have specified.
Read and Write Access - Like the Read Access, you can also define which Safe-mail users can submit messages to your message board. You can accomplish this by typing a list of Safe-mail user names (or address book nicknames) in the user text box.
Notification - When a message is submitted to the message board, Safe-mail can send a notice to each member of the message board, to a specified list of members, or to no one at all.
Setup - If you have administrator permissions for a message board, the Setup link will be active when you access the message board. In addition to being able to remove the message board by clicking the Delete key, you can also perform all the operations that you performed when you created the message board - except change the name.
Using the Bulletin Board
When you open the bulletin board, you are shown a list of boards in your favorites. You can click a board, or search for a board on the left. When you have opened a board, you will be given a list of existing topics for discussion. You can either start a new topic, or add comments to an existing topic.
Adding a Comment to an Existing Topic
To add a comment to an existing topic, click the topic, the topic will open in the following way: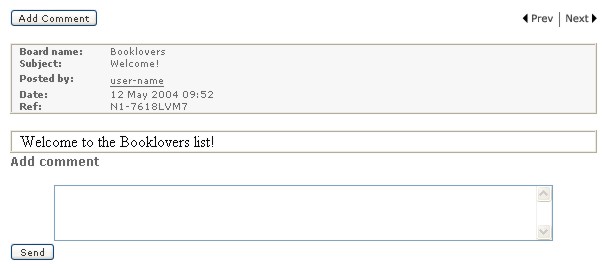 Type a comment in the text box at the bottom.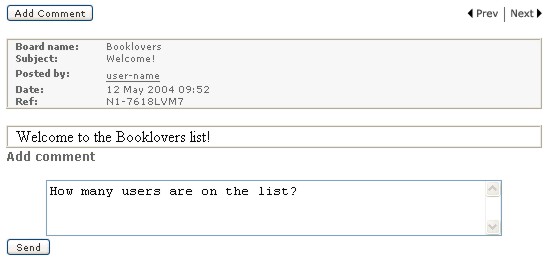 When you have finished adding your comment, click Send.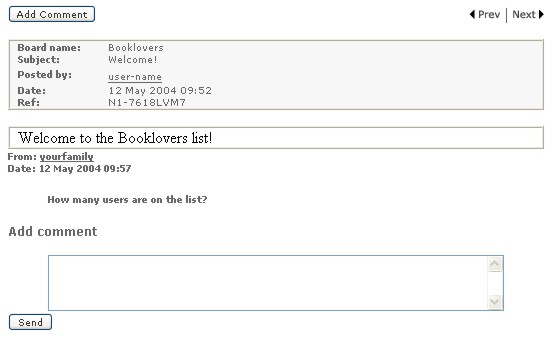 The comment will be added to the list, and you will have an opportunity to add another comment.
All users are setup to receive notices will receive a notice like the following: